ToucanBox Kids Activities Subscription Box
About Toucan Box
Delivery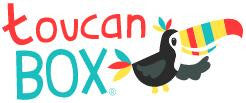 Toucan Box was created by mother of two Virginie. Her kids watched children's TV presenters build all manor of creations from 'every day household objects' unfortunately more often than not they wouldn't have all the items required in order to complete the projects. This sparked Virginie's idea, a selection of materials and activities for kids to get creative with delivered to your door. Perfect for keeping kids stimulated in the years leading up to school.
Free delivery is included in the subscription and the Petite boxes can fit through a standard sized UK letterbox.
There is an option to get the first box delivered to the purchaser's address and subsequent boxes delivered to the recipient for gifting purposes. The first delivery day can be selected to correlate with an occasion.
AYSO also recommend...